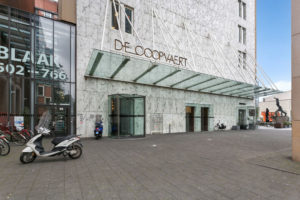 Fittrr has its own location, in the building 'De Coopvaert', in the heart of the center of Rotterdam. The spacious studio is located on the first floor. That is why at Fittrr you have the ultimate sense of privacy, nobody watches how you are exercising! This way we ensure that you can exercise with a relaxed and good feeling. Before you start you will be welcomed into the cozy living room with a delicious cup of coffee or fresh herbal tea. The sports room is divided into various parts, so that groups and personal training can work side by side without any worries. All sports and treatment rooms are equipped with the latest sports equipment. There are no fitness machines in the Fittrr studio, there is training through the Functional Training principle. After the training you can take a refreshing shower.
Easy booking system
At Fittrr, we work with the app Virtuagym which allows you to schedule your own training sessions, online or with your smartphone. In the app, members can easily buy training credits and pay them with iDeal and schedule your appointments with the desired trainer of small group class. There is no easier way!
Location
The studio is located in the large building Coopvaert, on the Blaak next to square 1940. Therefore, the studio of Fittrr is easy to reach. De Blaak is one of the city's traffic routes and takes you to the Rotterdam ring road within 10 minutes. The studio is also easily accessible by public transport. Metro station Beurs and Blaak train station are a 10-minute walk away. For more information, see contact & location.
[robo-gallery id="899″]
Accessibility
The studio is on the ground floor and can be reached by elevator. There is also a toilet for disabled visitors. This makes the studio and practice easily accessible for people who have difficulty walking or who are in a wheelchair.
Facilities:
Separated physiotherapy practice, group class room and personal training studios
Many different sports materials for functional training
Separate women's and men's dressing room
Free lockers
Free use of towels
Unlimited use of water, coffee, tea and fruit
Daily newspaper
Wifi
Shower
Parking (paid)
Elevator and stairs
Toilet for disabled
Pricing
Training at Fittrr is possible with every budget. Our rates start with only €13,75 for a small group training. Training at Fittrr is always prepaid. We sell both 'credit cards'  and unlimited memberships. Physiotherapy sessions are always invoiced afterwards and, most of the time, covered by your health insurance. Depending on the amount of credits you buy at once. Click here for our pricing.